In this article I will try to outline why the rise of 'Turbo Folk' in Bosnia makes no sense and should be stopped immediately.
This article was not intended to be written as a formal reference document, but is rather an account of a 'reformed Sevdah performer' (myself) who had taken a long time to realise the information presented in the paragraphs to follow.
Historical overview
Bosnia is an incredibly culturally rich and diverse country, which can be considered a 'European cradle of civilisation'.
Bosnia has existed as a unique geopolitical entity for eleven centuries and was the place where the Charter of Kulin Ban was drafted.
It is the first ever written charter from the territory covered by ex-Yugoslavia.
Bosnian kings were some of the most progressive thinkers at the time and have left behind numerous priceless cultural relics and rich traditions.
Empirical influences and Bosnian rule
Throughout centuries Bosnia found itself in many unusual political positions.
The presence and spread of the Ottoman Empire and its culture influenced the development of music culture in Bosnia-Herzegovina, particularly a specific lyric form named "Sevdalinka".
Bosnia was also part of the Austro-Hungarian empire, which brought accordion to the country.
In the past Bosnia also ruled Serbia and Croatia as part of its territory.
Throughout these moments of seismic cultural shifts, developments and movements, Bosnia maintained its unique identity and developed its own, highly unique culture.
This culture covered various aspects of life style including food, music (Sevdalinka – Bosnian traditional song), traditional outfits, various traditions such as Bosnian coffee drinking, architecture, interior design, hand crafts, furniture, etc.
Bosnian people stood strong, proud and determined to maintain, develop and continue their own values and culture, without infringing other people's cultures.
Twentieth century mayhem
The twentieth century brought much turmoil to Bosnia.
While places like America were going from strength to strength, Bosnia did not miss out on being the epicenter of World War I and World War II.
Just as it recovered somewhat fully from the disastrous effects of World War II, Bosnia suffered an aggression from Serbia and Croatia during early 90s.
I cannot think of many countries in the world which have been through three ravaging wars in a single century in the recent history!
Each of the wars which happened in Bosnia had a silent, but incredibly destructive aspect to
it – 'cultural genocide'!
This is the topic I would like to cover in detail in this short article.
Destruction of Bosnian culture
As Austro-Hungarian empire arrived to Bosnia, it naturally influenced the Bosnian territory with its own cultural values which were radically different to Sevdah and rapidly diluted Sevdah traditions in Bosnia.
Traditional Sevdah instrumentation (Saz) was abandoned, while Austro-Hungarians essentially imposed the use of accordion, Austrian traditional instrument.
Bosnians, in a move to save Sevdalinka songs from total destruction, adapted their interpretations to accordion and made accordion the 'modern musical heart of Sevdah'.
The rise of accordion based Sevdalinka accompaniments meant that musical values of Sevdalinka had already been altered somewhat, and were therefore no longer kept to their original form.
However, one could argue that the essence of Sevdalinka was still preserved by most prominent accordion performers that emerged.
Yugoslavian cultural imperialism
After the Austro-Hungarian cultural oppression, Bosnia became 'the heart of Socialist Federative Republic of Yugoslavia' at the end of World War II.
This socialist regime was seen by most as 'soft', however in practice it meant that people of Yugoslavia were taught to sing partisan and pioneer songs.
These 'Yugoslavian folk songs' somehow grew out of this new political form.
Nobody sings these 'Yugoslavian folk songs' today, proving that they were never real folk creations.
Yugoslavian regime 'softly' brainwashed few generations of Bosnian youth from knowing and understanding almost anything about their real cultural heritage.
Yours truly was one of the victims of this horrible, long-term brain washing campaign, and proactively shunned any association with Sevdalinka in my early stages of musical education.
During the period from 1950s to 1980s, however, there were some very important Sevdalinka recordings made by Radio Sarajevo which now form a part of an important Sevdah cultural archive.
Turbo folk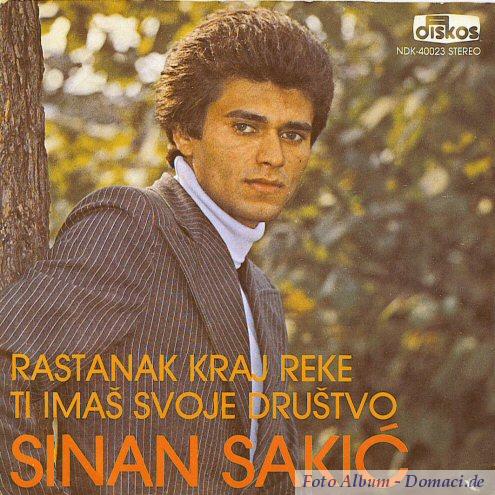 One of the biggest cultural evils, which lives in the bones of majority of Bosnian youth today started spreading itself some time in the 1980s and continued into the 1990s.
That evil was called 'Južni Vetar' (Southern Wind) and it originated in Serbia, unfortunate country which was equally (if not more) subject to cultural genocide like Bosnia.
Southern Wind essentially 'lifted' the sound of Lebanese and Egyptian pop, which, for example, can be regularly heard in various Lebanese sheesha bars in London's Edgware Road today.
This style of techno, quazi pop-folk, fused horribly together into an idiotically appealing bubblegum of subliminal, openly sexual, semi-musical hooks, flooder the Middle East, Turkey, Greece and Serbia, penetrating as far as Bosnia!
The biggest paradox in it all was the fact that this music was marketed around as 'narodna muzika' (folk music)!
Turbo folk – the curse of the modern Balkans
Turbo folk has nothing to do with Bosnian (or even Serbian) folk music.
Unfortunately, it's still going very strong in Serbia, where Bosnian immigrants, lead by Lepa Brena, built an entire empire from selling this recycled tat to unaware Serbian peasants, who enjoy a good 'booty shake' after a hard day's work in the fields.
Many listeners in Yugoslavia were wise enough to realise the Turbo Folk conspiracy.
Much of the youth opted for listening to Yugoslavian rock music, which was a form of 'musical safe haven'.
This music was influenced heavily by the parallel hippy movement in America.
It is highly paradoxical that the hippy movement was a form of freedom movement where the rock musicians were taking influences from English and Irish folk music and emergent Black folk of modern America and it in itself became a certain form of 'turbo folk'.
However, it could be argued that much of the music from bands like Leb i Sol (their adaptations of Macedonian traditional songs in specific) and later Yugoslavian rock groups were actual 'light forms of Turbo Folk', just delivered in a more tasteful manner.
Turbo folk musical scales are structured in such a way as to induce somewhat a paranoid mental state in a listener, catalysing use of alcohol and smoking of cigarettes along with increased levels of promiscuity amongst men and women, influenced by sexual images within the music and videos of most turbo folk songs.
I have heard a Serbian musician friend of mine make a comment about his analysis which indicated that musical structure of Turbo Folk music had been one of the aiding elements in creating the 'warring zombie mentality' amongst the people of the latest war of 1990s in Bosnia and Croatia.
Unfortunately this 'zombie state' can also be observed amongst Bosnian youth of today.
Take a seat in Sarajevo City centre and observe a young girl religiously repeat the lyrics of the latest Turbo Folk song, while staring in the distance with an empty gaze in her eyes.
This empty look is a common product of a human being blindingly consuming and following these agitating, irritating, false and highly sexually suggestive lyrics of this ultra-commercial 'musical form'.
Light at the end of the tunnel
However, two solid decades of recycling the very same, disposable, one-dimensional, 'musical' concepts becomes too much even for 'the zombie'.
New generations of musically educated and gifted Bosnians are starting new movements as an antidote to over-saturation of meaningless Turbo Folk.
Sons and grandsons of Sevdalinka performers from decades ago are starting their own movements and are bringing back to life their own interpretations of Sevdalinkas, while enjoying significant following in the process.
Sevdalinka is coming back as a healing to the cultural and spiritual wounds of Bosnians (and Serbians), who now increasingly want to simply relax and enjoy the simple and highly effective sound and message of this wonderful traditional Bosnian song, which has over centuries filled hearts of Balkan peoples with peace, love, happiness and melancholy
Summary
Bosnia is a land of great and unique cultural heritage, which over the last century has been subject to extreme and systematic forms of cultural genocide.
Commercialised, ad-hoc, fusion styles of music have diminished the significance of Sevdalinka in the ears of every day listener.
Bosnia, however is now coming into a new cultural era, in which the regular person is sick and tired of recycled Turbo Folk rubbish and are coming back to appreciating the real beauties of Sevdalinka and real values of Sevdah heritage.
Published on 24th October 2009